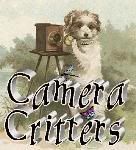 OH.......LILY FOUND A FROG!
We were picnicing in Letchworth State Park and Lily found this little critter by our cooler and the chase was on!
Miss Frog began her mad dash!
Lily was so funny!
She ALMOST got a nip in there!
Lily got to the end of her picnic leash! (yes her picnic leash is about 10 ft. long)
Miss Frog finally safe and under a little shelter far from Lily. She watched Lily for a long time.